"OH I DO LIKE TO BE BESIDE THE SEA-SIDE"
Mid-Ulster Ladies's second match of the season took them to the sea-side to meet Tollymore Athletic, the Newcastle side had made a good start to the season so the girls expected a tough game and were not disappointed.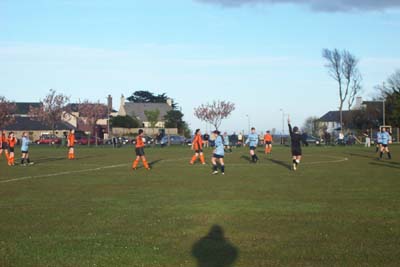 The Mid-Ulster girls started brightly and put the home side on the back foot right from the kick-off, with Laura Burton and Stacey Hodgett forcing the Tollymore keeper to pull off some tough saves.
The Mid-Ulster girls began to dominate, with Clare McGrath, Pamela Bates, Julie Kirkpatrick and Michele Derby controlling the mid-field, and inevitably it was from here that the move for the 1st goal started.
Clare won the ball in mid-field and found Stacey on the right wing, Stacey turned neatly inside her marker and found Laura unmarked on the edge of the penalty
box. Laura kept her cool and lobbed the ball over the onrushing Tollymore keeper.
The Newcastle side fought back strongly and with both sides playing so well, it provide an extremely entertaining game for the spectators. Tollymore switched their tactics and played long balls over the Mid-Ulster back line, hoping to optimise on the speed of their forwards, and it was this tactic that won them the corner that lead to their equaliser.
From the corner, the MU players failed to clear properly and the resulting confusion between the MU keeper, Tracey Bell and one of the mid-fielders saw
the ball creep over the goal line.
Half-Time
Tollymore Ath 1 Mid-Ulster 1
The second half started with the same high standard of football, but the defensive displays of Natasha Stewart, Elaine Junk, Karen Stirrup and Ruth Brown could not be questioned, and it was their outstanding play that denied Tollymore any further goal opportunities, except for the occasional set piece.

Tracy Bell again had a good game in goals, but with few saves to make, she demonstrated her footballing skills by providing an extra option for her defenders.
Early in the second half coach, Noel Mitchell, made a few tactical changes replacing sweeper Elaine Junk with Heather Hunniford, Julie Kirpatrick with Judith Black and Stacey Hodgett with Oonagh McCann. The versatility of the MU squad was clearly demonstrated with these changes, as the team far from being disrupted by the changes continued to play some very creative football, with Oonagh McCann and Judith Black coming close to giving MU all 3 points on several occasions.
First point of the season for the MU girls, who celebrated with a quick dip in the Irish Sea, well they were on their holidays !!!!, and they hope to continue their progress when they meet Armagh in their next match at Fairhill, Cookstown on Thursday 9th May.
Full-Time
Tollymore Ath 1 Mid-Ulster 1
Player of the Match :-
Clare McGrath
(her head must have been sore after this one)
Squad - Tracey Bell, Elaine Junk, Natasha Stewart, Karen Stirrup, Ruth Brown,
..............Michele Derby, Clare McGrath, Pamela Bates, Julie Kirkpatrick
..............Laura Burton, Stacey Hodgett
..............Heather Hunniford, Oonagh McCann, Judith Black, Sharon McGuckin